How Often One Should Post On Facebook Page ?
Hello Everyone !
Welcome back to Manoj Blogs Zone 😉 Hope you are doing well and your presence right now shows how I am lucky to have you all. Ok let me share you today's topic " How Often One Should Post On Facebook ? "
Recently I was having a chat in a forum and suddenly this interesting topic raised from a person listening to which everyone started fighting, putting some fixed no.. Hence I thought its better..ok best to share with all my friends who are out there. I would take this topic similar to like :
"How Often One Should Eat During A Single Day " 🙂 well this is almost same as food eating.
Hot Selling Digital Marketing Books
Please be careful there are rumours in the internet about this figure and many popular blog too have stated their fixed figure about the frequency of posts, one should do on Facebook page.
As per Social Baker ( one of the popular social insight platform) have stated :
"To engage your fans, you need to post enough content but not too much at the same time.
Is there a magical number for the ideal number of posts on Facebook?  
No, there is no magical number.
Good posting strategy is a key factor for every succesful Facebook Page."
Graph showing Posting Frequency Affect Clicks Per Post :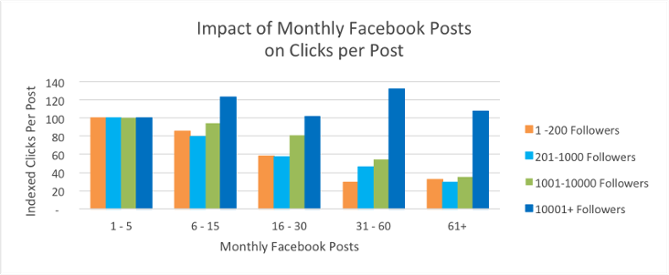 Source : http://blog.hubspot.com/marketing/facebook-post-frequency-benchmarks
Before jumping to conclusion, let us first go the reason why this is happening and how this question got raised.
Only one reason – every business wants to make most of it and would like to gain 100% organic attention from their audience. In this, pages have adapted a habit of pushing non-relevant content to their audience even though it doesn't matter to them.
Every day millions of pages are created by x,y z sources and these pages with pass of time generate audience of its interests either organically or with paid way. Let us say you have a page name MyFB page and it is liked by X no. of fans but with increase in new pages birth 🙂 my fans have now also become fans of these new pages.
So what the big deal ? Well my friend with new pages bonding, their Facebook news feed is updated with these pages too which means your page MyFB competition has increased due to which promoted content is not able to reach your audience at that time. In other words, posts visibility from Pages are becoming less in that competitive News Feed.
The result? Dropped in organic reach which is leading business to see fewer clicks per post and at the end scolding Facebook for all reason 😀
Also read this : 
How To Know Which Social Media Channels Is Perfect For My Business?
What is the solution ? How many posts should one do daily/weekly/monthly ?
There is no fixed no. Its depends on kind of category your page(s) is into. As per influencers every business or fan page has been classified into two category :
Brand – Which sells products/buy products/develop products/manufacture products

Media – Which deliver information to readers and readers consume them based on their need/importance to their life.
​Supporting link : https://www.socialbakers.com/blog/147-how-often-should-you-post-on-your-facebook-pages
​As I earlier said its like how often one should eat in a day. Well foods are divided into different category. You can eat them all the time and you will not get bored. Water is part of food which you drinks all the time and is essential for your health and body.
Top brands have posted 1 post a day in the last 3 months :
The selected media companies posted 1-16 posts a day in the last 3 months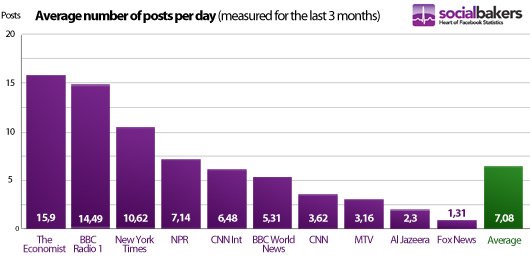 News media company plays very important role and here frequency doesn't matter as they have more area. With frequency its easy to maintain the engagement level with audience.
Conclusion : 
There is no such fixed no. with which fan page can deliver posts to their audience.

Team need to utilize most of their time in understanding their audience type, interest with analysis. Find out the reason using Facebook insight dashboard

Presentation play important role

Timing matters

You should be aware about your audience response which is only possible if analysis is carried out rightly.

Check out what other competitors are doing , what you are lacking and how you can fix the weakness.

Never adopt same style which you have worked on other platform. Remember every platform, every single post differs from each other.Hence its not justify to co-relate and apply same thing.
Reference articles :
Order Any Book From Below and  learn more about Digital Marketing. Hurry Up !
Hope you enjoyed this article and must be scratching your head with some reason. Don't be silent and share your beautiful opinion what you think and why you think.
Keep visiting www.manojblogszone.com
Jaw dropping deals from Zebronics
|
Best Video Games for PS5 PS4 Xbox and PC starting at INR 149