There is always curious among webmasters, owners, digital marketers regarding the performance of their website such as how it doing, whether it is ranking in Google search results or not and how is the rank in Alexa ranking.
So friends here I am going to disclose some very common thing about Google Ranking and Alexa Ranking. Why it is important and being a digital marketer why one need to cross check for your website.
Let me begin with the word ranking and what it is ?
Ranking means to be first in something simply like we do come in exam, running, and other things. Similarly websites do also have same ranking factor and they keep competing with each other based on many factors which is defined as Ranking Factors
Who decide this website ranking ?
Search engine decide ranking of each and every website. Whenever a person do try to search something in search engines like Google, Bing, Yahoo , these search engine based on their ranking algorithm produces results with list of sites with content matches with the search content.
Now you would have understood the game of ranking, hence every site wants to top in the search result so that they will get good no. of clicks and visits to the site, this is the reason why webmaster and digital marketer always try to improve their website ranking.
Since most of the users depends on Google ranking and Alexa ranking to drive more business, therefor it is very important to look into its difference and its similarity :
You should know about the two so that you can easily explain to your clients about the things more detail way :
Let me first start with the definition :
Google Ranking : 
From Google language it is often called as Page rank and it is defined as the no. of votes  ( back links) and the quality of votes( quality of back links) pointing towards the website is called as Page rank or also known as Google Rank.
The more votes ( good quality links a website able to generate from other existing website) => the more rank a website gains and hence easy to top in search engine search results.
More about Google ranking process read this beautiful article from Search Engine Land : Secret Behind Google Rank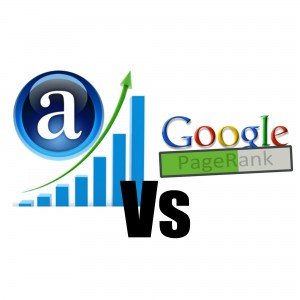 Google Ranking ranges within NA to 10  : NA<0<1<2<3<4<5<6<7<8<910 with ascending order
NA – Not Applicable  which means your website is not evaluated yet by Google and need more work in improvement. It is also means Google has not publicly disclosed the page rank of that page yet.
Feature of Google Ranking or Page Rank :
Determine the strength of a web page.
This concludes Google trust towards website.
It helps to keep track about the link authority growth of a website.
As per SEO forum, Google Ranking gets updated every 3-6 months
Google Ranking figure is not the actual value provided by Google buts its an assumed figure released, hence Google Page Rank should not be considered as real value from Google.
There are many sites available for checking page rank of your site eg :
http://checkpagerank.net/
Alexa Ranking : 
Alexa Rank  is defined as a numerical score which is awarded to a website based on factors such as :
On Total Visits :
Page Views
How it is different from Google Ranking ?
Alexa Ranking is totally opposite to Google Ranking i.e. Google Ranking starts with lower value to higher value while Alexa Ranking is totally opposite to it i.e. the lower the ranking number, the better the website is.
It is based on 3 months of historical traffic data collected from the users of Alexa Toolbar
One can use Alexa rank toolbar to check his/her website ranking. You can download Alexa Toolbar from here.
For checking alexa ranking visit : www.alexa.com
Hope you enjoyed reading my article and it has cleared about ranking factors and what are difference when checking ranking.
Thanks for visiting my site and dropping me your queries. Keep sharing your issues and yes don't forget to leave your comment which will encourage me to come up with new solution.