Social Media Listening Tools has become very important media to measure your social media ROI. Without the support of these social media listening tools, one cannot identify the real insight of social media promotion nor able to put new strategy for the next social media plan.
Now a days every social media brands have started providing their own insight dashboard to measure the performance of the promotion and other aspects and help the social media specialist to understand the ongoing plan.
Let me share you a list of some popular and useful free social media listening tools which you can easily use them for measuring every social media activities, you will be executing.
1. Hootsuite : It is one of the fastest and most reliable free social media listening tool I have seen. It gives you option to add many social sites where you can pump your feed.
The best part is you don't have to shorten your post link as it will automatically short it when you curate your feed with the link.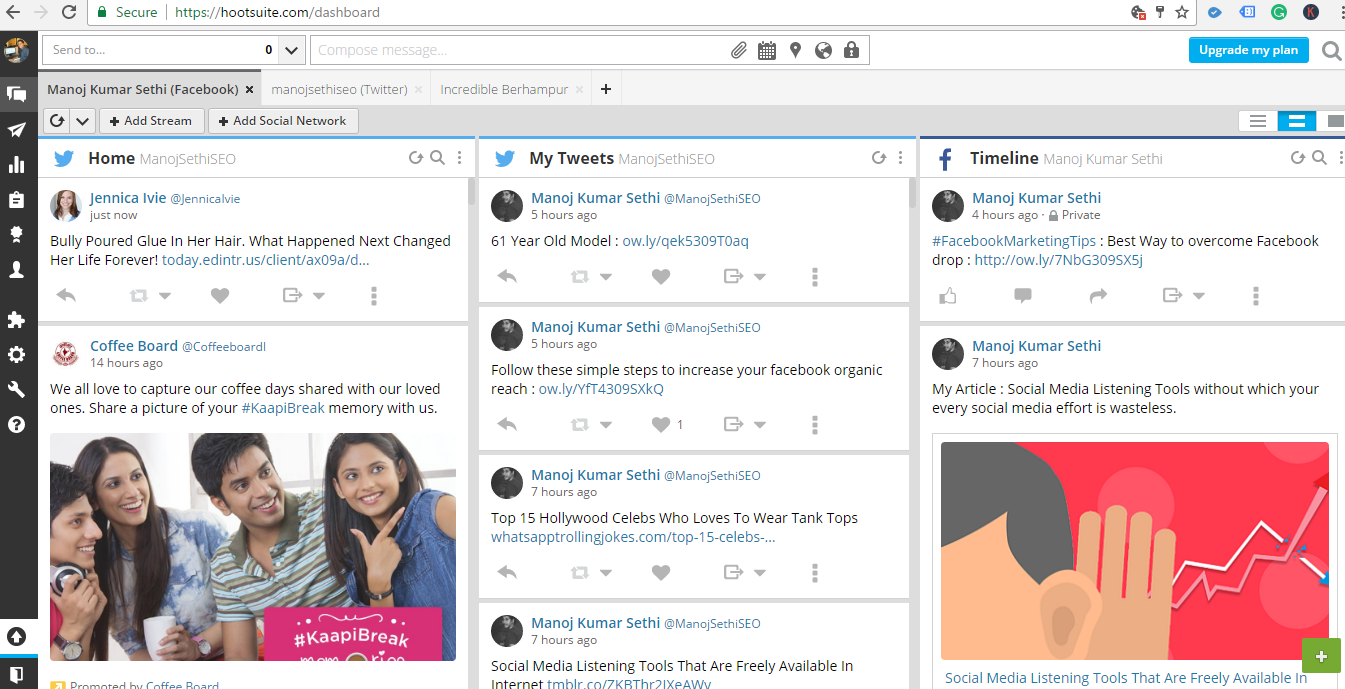 Insight 2 : Displaying Statistic Section
Once you are done with the feed post, choose the accounts where you want it to publish and at single shot you can push same post to different social platform.
One can also see the statistic report of the published posts. Isn't it the best social media listening tool ? 😉 yes it is and that's the reason it is my favorite one too.
2. Tweet Deck : This tool is also my favorite tool but it is only meant for twitter. You can add more than 3 twitter account and start tweeting it.
It has columns which allows you to present sections like :
Schedule Tweets

Activity

Trending

Mentions

Likes

Notification
So it depends upon your interest which is important to your analysis part and what is needed. This is my next favorite social media listening tool.
You can learn more about this tool here : https://support.twitter.com/articles/20169620
3. Social Bakers : It is one of my favorite tool in the sense it comes with statistic part where not only you will be measuring your social media ROI but also one will enjoy the statistic information.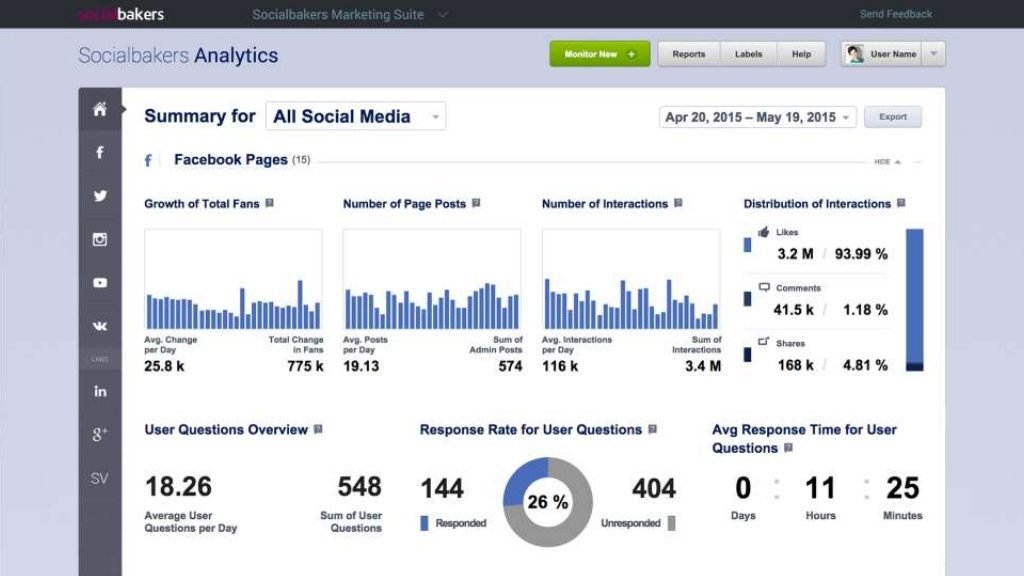 Image Source : Social Baker
Social Bakers is truly a powerful social media listening tool which every company is looking to use it and make their social media plan more result oriented by saving time.
It gives you option to download the report in pdf form which is more than what you can expect.
4. Klout Score : This tool is very unique and different from the rest. The simple reason is it is meant to measure a profile activeness in social media platform.
One can signup using twitter and facebook and keep adding list of active social sites where you are promoting your stories.
Klout Score ask you to authorize these connected social sites.
Check out below insights which I have collected from my Klout dashboard. It will help you to understand more easeir way.
Insight 1 : Displaying social networks
Insight 2 :
5. Social Mention : If you are not looking for great insight and want to see how a particular topic being discussed in the internet world. This tool is best for your.
This is one the best free social media listening tool where you are able to see the : Negative, Positive and Neutral response against your topics and also one will see where it got used.
Insight :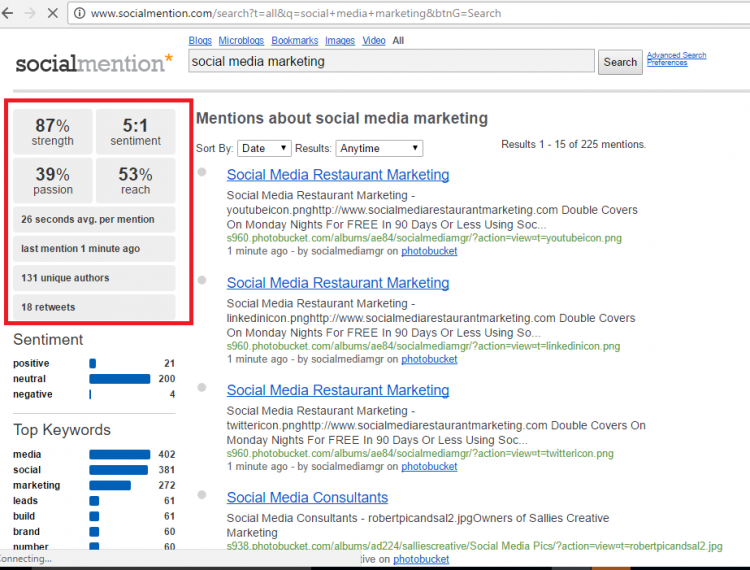 Well this is not the end of the story for these great social media listening tools in fact there many more such tools available and freely available. Use them and find out the best thing out them and yes don't forget to share with others.
Hope you enjoyed this topic. Do share your list of tools which you are using and I will list them in my list. Keep visiting my blog and share your comments as it will encourage me to come up with more new topics.